Something wicked this way comes.
The John Wick Character Pack is the first free character pack for PAYDAY 2. It allows heisters to play as John Wick, the Hitman of the PAYDAY gang. Other than John himself, it includes the Hitman perk deck, three shades, the URSA Tanto knife and the Chimano Compact pistol. This character pack was a part of update 40 and is completely free for our players.
Key Features


• A new playable character for free – It's time to introduce John Wick, the Hitman of the PAYDAY gang. John Wick is a quiet, calm and has a seemingly ageless physique, probably from his background as a boxer. John and Chains know each other from before as they used to be in the military together.


• Hitman perk deck – The Hitman is a professional killer from the criminal underworld who excels at close and ranged combat. Criminal syndicates will hire a hitman as a last resort to enforce criminal authority, deliver retribution or eliminate competition.


• Two new weapons – The Chimano Compact pistol is a semi-automatic 9mm pistol. Simple, reliable and available in a concealable package – a must for any Hitman. The URSA Tanto knife is an exclusive, indestructible fighting/utility knife. It has a tanto blade, shaped like the tip of a Katana; polymer grip; stealth black design. A modern take on the classic URSA knife.
• A dozen new weapon modifications – The Chimano Compact pistol comes with a host of new weapon modifications, including the Champion's Silencer, Combined Module, Facepunch Compensator, Laser Grip and more.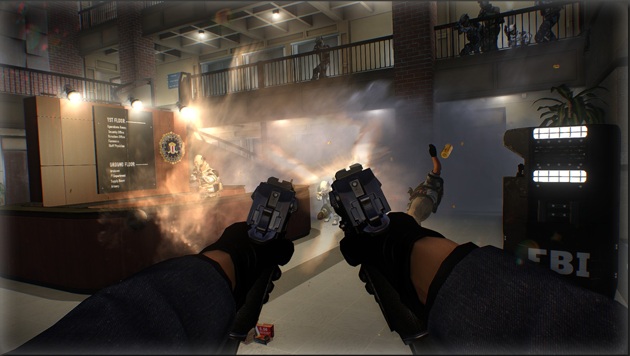 • Introducing Akimbo – One of the most exciting things with introducing the Hitman is that we finally have the perfect reason to introduce a much loved feature among action games: Akimbo, the ability to dual wield weapons.


• 3 new cool-looking shades – The Collateral shades can only be used by John himself. Beyond that you have the cool-looking Reservoir Dog and Terminator shades. All three shades are fully customizable with patterns, colors and materials.