Rise of Keepers (RoK) is a mix of the best Old School RPGs , Tower Defense and MOBAs .
The idea behind RoK is to offer a new gameplay concept bringing together the best features of each game style mentioned above.
In Rise of Keepers your main goal is to defend and develop your base. You will face the attack of waves coming from the four portals, that are activated in every time interval, but different from the other tower defense games, you have to go out and explore the scenery, cut trees for timber, mine rocks for stone, hunt animals for food, face enemies, open secret chests, pick up items, and finally build your defense towers using the collected resources.

Before starting the game, you will choose your Keeper. Each Keeper has special skills, can build its own defense tower, as well as other structures that are common to all Keepers – teleportation stations, hunting traps, fishing equipment and other.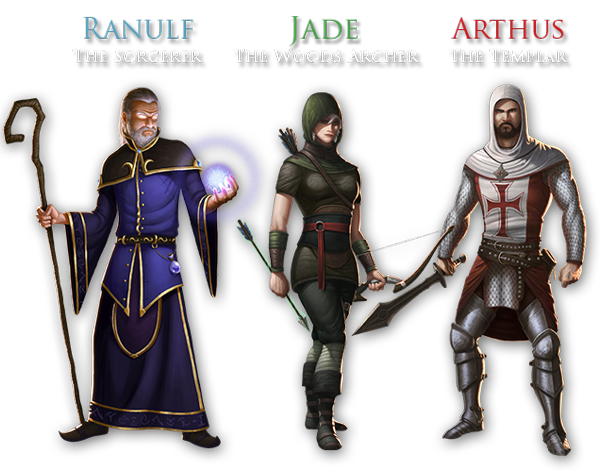 The level of the Keeper will follow the level of the Main Base. Each time the Base evolves, all allied Keepers evolve as well, and then you can unlock new abilities and improve their attributes.
Ranulf, Jade and Arthus are the first Keepers to become avaliable in the game. The first one avaliable is Arthus. Many other Keepers will come.
Explore – Explore the world of RoK. Without the exploration you will probably fail.
Scavenge – Collect the natural resources, find dropables itens and open chests to get rare weapons.
Build – Using the natural resources you can build many types of structures to help you during the game.
The Keepers – Each Keeper will bring a entire new gameplay experience. Choosing a Keeper is a important decision once each Keeper has unique skills and a unique Defense Tower.
Defend – Keep your base in one piece is a key feature to keep you in the game.
Fight – Using your skills and many type of weapons you can improve a lot the defense of your base.

The RoK map is one of great things of the game. It's huge and full of challenges and secrets. There you will find diferent enviroments like beachs, deserts, lakes, forests and rivers. Each enviroment will bring specific enemy types.
You also will find secret chests where you will find special weapons and other sort of items. To open these chests you have to defeat Legendary Enemies that drops the chest key.

In Rise of Keepers you can play in three game modes:
Single Player: Select your Keeper and play alone. In this game mode each Keeper will bring a entire new game experience.
Multiplayer PvE (up to 5 players): Here you have a 5 Keepers team! Now the team work matters a lot and the team composition will result on different game experiences.
Multiplayer PvP (up to 5 players per team): Here is where you will find the MOBA game part mentioned above. On Versus Mode two teams (5 Keepers each) fight each other attacking the enemy team base and conquesting neutral posts aroud the map that grants more units on the team attacking wave.
The RoK Multiplayer is a upcoming feature. Not yet avaliable.

You will also find in near future some other cool features like:

Epic Bosses.
Huge variety of enemies (constantly updated).
Dedicated Server (to host the Multiplayer Cooperative and Versus matches).
Online World ranking for all game modes.
Day and night cycle.
Change of enemies according to the environment and time of the day.
Unlimited Survival Match – Survive as long as possible and fight for a position in the Ranking! (Single Player & Coop).
Many updates with new items, skins for Keepers and other cool resources (coming soon).