Roomscale Tower is a photogrammetric experience built for the HTC Vive. Become a knight of the Middle Ages and leave in search of wealth through towers filled with traps. Fight an army of skeletons in an intense survival mode or relax in your medieval home.

Photogrammetry :
We use 3D scan technology (photogrammetry) to provide very photo-realistic graphics. With photogrammetric technology, there will be no difference between real and virtual :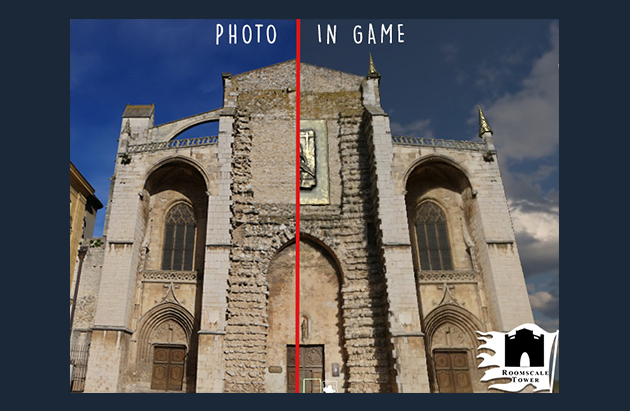 Dynamic super sampling :
Roomscale Tower uses a special renderer* that based on your system performance who dynamical scales the render resolution.
*The dynamic supersampling renderer (The Lab renderer) auto-adjust renderTargetMultiplier.

Roomscale exploitation without teleportation, the game allows you to walk through the entire game with the help of platforms, elevators, boat & mine cart.
Alpha (actual) features :
3 game modes : Tower, Survival & Training
– First map of tower mode
– First & second map of survival mode
– Archery training
Weapons's list :
– Sword (3 models)
– Axe (3 models)
– Longbow
– Arrows & flammable arrows
– Throwing axe (2 models)
– Throwing knife
– Lance
– Shield
Enemies's list :
– Skeleton melee
– Skeleton archer
– Skeleton boss
– Final Boss of survival map 1
– Final Boss of survival map 2