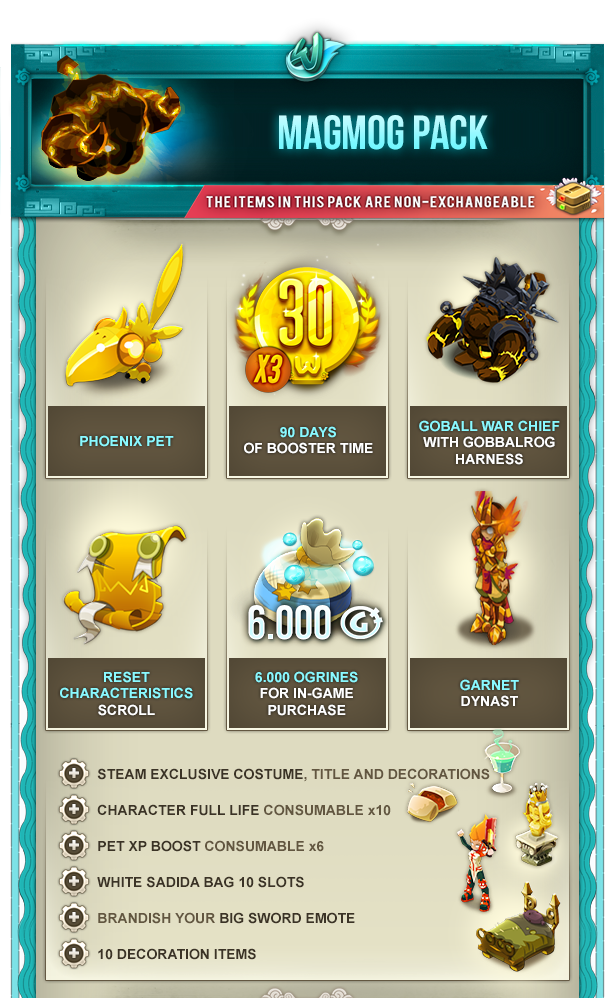 Be ready to face the World of Twelve with exclusive and powerful items!
*Be careful, this DLC pack can be activated only once per player account in WAKFU and only for the following game servers : Remington, Nox, Dathura, Amara, Elbor, Efrim, Phaeris.
The Magmog Pack includes:
90 days of Booster Packs:
– +30% XP at the end of fights and quests
– +10% chance of getting more items at the end of fights
– +30% of Kamas at the end of each fight
– Be the first to access new content
– Your secondary characters gain experience faster
– Fill your life gauge with one click
– Vote during the elections for governor of your country
This Booster Pack shall only be valid for characters on the server you chose at the time of activating the code.
6.000 Ogrines
– Ogrines will allow you to purchase items, services, and Booster Packs from the game shop and from the site www.wakfu.com/en.
Phoenix Pet
– This powerful gold pet gives you +60 HP and +30% Damage at level 50.
Long-Range Gobball War Chief
– A Gobball War Chief trained to fight from a distance.
Gobbalrog Harness
– This very specific harness can be equipped on a Gobball War Chief in order to make it look like a Gobbalrog.
Scroll of Absolution
– Redistributes your stats and specialties points, as well as your spells experience. Very useful if you want to adapt your strategy.
x10 Vital Energy Cocktail
– Gives you back all your Vitality at the end of the next 5 fights.
x6 Pet XP Boost
– Gives 2 more levels to your pet
White Sadida Bag
– 20 slots inventory bag
Emote: Brandish Your Big Sword
– You'll have the chance to show your huge weapon to those around you!
Title: Sire of Renown
– This title is reserved for deserving noblemen and -women. It is with great pleasure and pride that the court presents… Huh? Oh… You've disappeared again.
Foggernaut Bedroom Set
– 10 decoration items based on the Foggernaut class.
Garnet Dynast Costume
– This magnificent costume will make you look classy… for once.
HOW TO REDEEM:
To get all the content of your Magmog Pack once you've purchased it with your Steam Wallet:
Enter your 15 characters code on the WAKFU website! www.wakfu.com
Once you have entered your code, select the server on which you want to credit the Booster days. IMPORTANT: if you do not choose a server, you won't get anything. The code remains valid until you choose your server.
Then, you just have to confirm at the bottom of the redeem page.
Your Ogrines will be automatically credited to your account, the Booster days to your server and you can collect all yours items directly ingame in the Gift Interface.